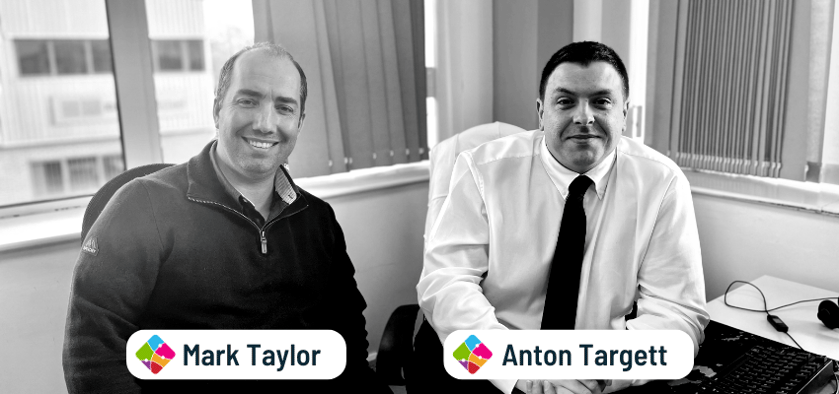 inspHire first opened its doors to the rental industry way back in 1997, and have gone from strength to strength since. Fast forward 20+ years, inspHire now are a part of the Kerridge Commercial Systems group and support over 20,000+ global users. To support this growth, inspHire now have teams located across the globe with offices in the United Kingdom, Australia, United States, South Africa and the Netherlands.
Part of inspHire's strategy is to implement customer-centric roles within our business. That's why we'd like to introduce you to Mark Taylor, Product Strategist, and Anton Targett, Head of Product Delivery, two team members whose roles are integral to inspHire's day-to-day operations and overall strategy.
Mark and Anton's positions ensure that our customers are the focal point of all decisions related to delivering products, services and experiences to create customer satisfaction, loyalty and advocacy. Read the full interview to learn how these pair drive change throughout our suite of products, that prioritise putting our customers first, by delivering a positive experience and continuing to build long-term relationships.
What has been your KCS journey?
"My background has always focussed on understanding customer requirements and creating positive transformative changes within their businesses. So, when I joined the inspHire team in 2008 as Business Development Manager, it was the perfect fit for me. My role focussed on visiting hire companies and showing them how our inspHire Office solution can help their business grow, which is ideal for companies with 1-50 employees with single or multiple depots. As inspHire Office's user base grew, I then stepped up to UK Sales Manager in 2011 and managed the UK sales team and lead the way with our inspHire Corporate edition – a solution for larger hire business managing multi-company, multi-lingual and multi-currency operations." - Mark
In 2014, Mark also assisted in the Current RMS launch – our all-in-one rental solution for the Pro-AV, Lighting, Events and Production industries. Since then, Current RMS has grown from strength to strength with over 2,000+ rental companies worldwide, handling their day-to-day rental operations. Key to this role was helping to guide development of the platform with the customer requirements in mind, assisting with early adopters' feedback to shape the product in to the world leading platform it is today!
Mark also worked to Account Manage some of our largest inspHire Corporate customers, including Boels Rental. Boels Rental has grown to become one of today's largest rental companies in Europe, for both equipment rentals and specialist rentals. Having used inspHire Corporate since 2003, inspHire has been privileged to witness their journey from the beginning and support Boels by providing a digital core rental ERP platform throughout their phenomenal success.
"Eventually in 2018, I was promoted to Head of Sales, which involved managing the sales team, demoing our inspHire Corporate Edition and liaising with our customers. Fast forward to 2021, I started my new adventure as Product Strategist! It has been a very exciting journey and I am tremendously proud to be able to help deliver the future vision of the digital strategy for the hire industry." - Mark
As for Head of Product Delivery, Anton Targett, he originally started his KCS journey in 2012 as a Software Engineer working on Kerridge Commercial System's solution, K8. The role involved integrating best of breed products into the KCS ecosystem, helping the ever-growing needs of our customers. When the Kerridge Commercial Systems group wanted to dip its toes into the North American market, a new role was created to fulfil this strategy, Software Development Manager, and Anton was successful in landing himself the job.
"This role was pivotal to deliver the market requirements in taking K8 to market in North America which was brand-new to the KCS group. It was an exciting challenge working with a team of engineers and early adopters, that eventually resulted in numerous successful go-lives. In 2020, I then was promoted to Product Manager with a continued focus to grow K8 within the North American region. The role involved working with our clients and sales team, planning and prioritising the roadmap, and ensuring delivery was on track at a high-quality. Then I took a leap into the rental division and joined the inspHire team in 2021 as Head of Product Delivery!"- Anton
What does your current role entail?
"The role of Product Strategist looks to understand the latest and greatest of our customers challenges in an ever-changing market. I drive the rental product roadmap from a strategic level to ensure the development we plan and release meets the needs of our customer base now and in the future. Essentially, my main focus is to deliver the unserved needs of the hire industry through a new digital strategy." - Mark
One project recently completed is inspHire Web Portal's Digital Twin release. This new feature enables you to share the online equivalent of your equipment that can be accessed by simply scanning a unique QR code. Reduce costs and paperwork by enabling your customers and team to self-serve by scanning your unique QR codes, which will take them to a unique online webpage with all of the details you wish to share on your items or sub-group.
"As Head of Product Delivery, my main focus is to deliver on our scope of software on time at the highest quality. As an R&D organisation, we want to be predictable and dependable in the work that we do. My role ensures the R&D teams are writing software that adds value for product and project needs, confirming it's fit for purpose and delivered across various platforms." - Anton
inspHire has direct control over the lifecycle stage from beginning to end of wide range of products. From requirements gathering and analysis, all the way through to regression and testing, inspHire have the people in place to get the job done. With a global team of product owners, developers, QAs and technical authors, all of inspHire's development is done in-house, meaning no reliance on third party suppliers!
Finally, if you were a rental asset, what would you be and why?
"I would be a Solar Hybrid Generator, because I take bright ideas and convert them into something sustainable and useable." - Mark

"A spotlight, because I like to shine a light on all of the good things we're doing." - Anton