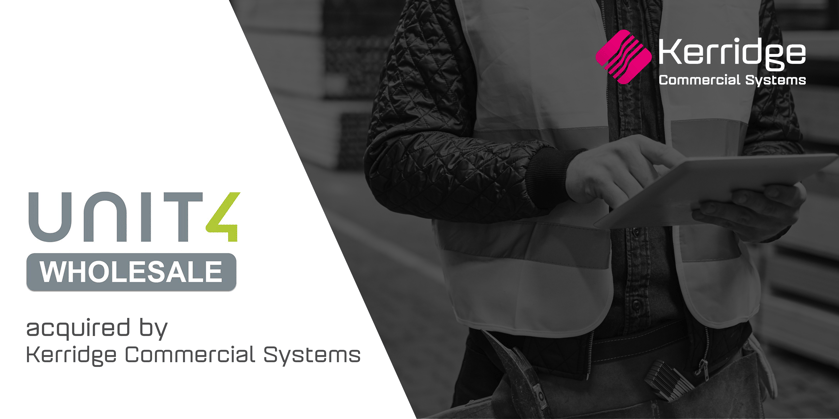 July 2020 - Kerridge Commercial Systems (KCS), a leading provider of ERP software, services and support solutions for wholesale, distribution, rental and installation customers worldwide, announced today it has acquired Unit4 Wholesale in the Netherlands.
This acquisition is an important strategic acquisition for KCS in the Benelux and a positive development for Unit4 Wholesale. Unit4 Wholesale will continue to maintain and support existing software solutions and introduce the benefits from the KCS portfolio to its customers to support customers even better
Ian Bendelow, CEO of Kerridge Commercial Systems, said: "The acquisition of Unit4 Wholesale is a great step for both companies. Unit4 Wholesale is now part of an internationally successful KCS group with a focus on the global trading and distribution market, it complements our existing business in the Benelux extremely well. With this acquisition we double our revenues on the continent of Europe, increasing our capabilities still further to the benefit of all our customers. Bringing Unit4 Wholesale into the KCS group will strengthen and deepen our presence in this sector in Benelux and form a significant platform for further growth in to Europe. We believe that our extensive range of complementary solutions will enable us to better serve existing customers and partners in the long term and at the same time offer a very attractive portfolio to all customers."
Ludo Hertroijs Unit4 Wholesale: "We are excited to be joining KCS, a specialist group focussing on software for the trading and distribution market, and believe we will be able to better meet Unit4 Wholesale customers needs in this sector by leveraging the resources and expertise of the combined companies."
About Kerridge Commercial Systems.
Kerridge Commercial Systems offers specialist software, service and support of fully integrated trade and business management solutions to customers active in trade, distribution, rental, projects and installation - small and large companies, anywhere in the world.
With over 40 years of experience in the trade sector, our technical experts are leaders in trade and management technologies. Our innovative and flexible approach ensures that our customers work with us in the long term. Our mission is simple: to design and deliver high-quality, integrated ERP solutions that enable our trading customers to effectively purchase, manage inventory efficiently, sell profitably and deliver better service. Kerridge Commercial Systems, headquartered in Hungerford, UK, serves 30,000 customers worldwide, primarily in Europe, North America, Africa and Australia. The company has, due to this acquisition more than 1,000 employees worldwide, including teams in 2 locations in the Netherlands.
Visit our websites: